Now that Tim Lester is in the spotlight as the new offensive coordinator of Syracuse Orange football, certain details about his life heretofore unmentioned are bubbling to the surface. Deep, dark secrets that dare not speak their name.
Specifically...
Tim Lester was the original starting quarterback of the XFL's Chicago Enforcers.
Okay let's back up. This is as good an opportunity as any to get to know our new OC a little better. Who is he? Where did he come from?
Lester made his mark at Western Michigan where he racked up 11,299 passing yards and 87 touchdowns, setting 17 school records along the way. At the time of his graduation, he was fourth all-time in D-1 for passing yards and sixth in touchdowns. Next time you're in the Western Michigan Athletic Hall of Fame, make sure to check for Lester's bust. He's in there (if it's an actual place).
Let's skip the next couple years just to say that when he decided to enter the college coaching ranks, he worked his way up from Elmhurst College OC to head coach at Saint Joseph College to Western Michigan QB coach and eventually returning to Elmhurst as head coach for five years, leading the team to a 10-2 record and a D-III playoff berth. When Scott Shafer ascended to head coach at SU, Lester reunited with his former WMU running buddies (Shafer & George McDonald) as QB coach and recruiting coordinator.
But let's go back to those in-between years for a second. Because in-between his college career and his coaching career, Lester gave it a go as a pro quarterback. And that included a stint as the starting quarterback for the Chicago Enforcers of the XFL.
According to the Enforcers' Wikipedia page, "Lester had been out of football for a fairly long time and had taken up a full-time job as a math teacher at the time he was picked up by the Enforcers." That's mostly true, except that he took the job so he could coach the football team, but, their story is better. Unfortunately for him, Lester was replaced midway through the season by former Notre Dame QB Kevin McDougal, who brought the team back to a 5-5 finish from an 0-4 start.
Still, Lester will always be able to say he was there. And there are playing cards to prove it...
"The football tattoo on his right arm serves as a warning to defenses: He has the gun to fire off his favorite shot - The Deep Ball - any time he chooses."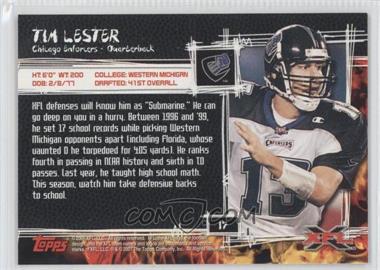 "XFL defenses will know him as "Submarine." He can go deep on you in a hurry."
Look at that hand-off. EXTREEEEEEEEEEEEME!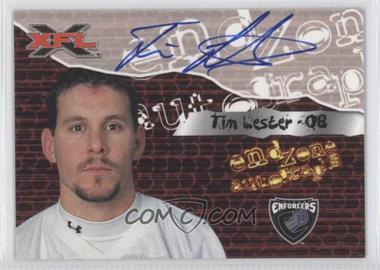 Officer 1: "What's he in for?" Officer 2: "Murdering the Florida State defense" Lester: "Guilty as charged" pic.twitter.com/ytm0wijj6B

— Dan Lyons (@Dan_Lyons76) October 8, 2014
Can we just go ahead and make XFL experience a requirement for all future coaches?