Our Ryan is all growns up!  Gone are the days of hanging out in the mall with Paul Harris and buddying up with Kristof! on park benches.  Here to stay are the days of hanging out at LeBron's Skills Academy, taking in all the action with his video camera.  Footage that will live on forever on the Internet as a reminder of any noteworthy events that happened during that camp.
(Someone whispers in ear)
THEY DID WHAT?!?!?
You want to see video of Xavier's Jordan Crawford dunking on LeBron James?

If so, too bad.

Because you're not going to see it.

Thanks to Nike.

Turns out, there were at least two cameras rolling Monday night when Crawford dunked on James during a pick-up game here at the LeBron James Skills Academy. It was a two-handed jam, the kind that would've circulated quickly on YouTube. But Nike officials eliminated that possibility shortly after the dunk happened by allegedly confiscating tapes from various cameramen.

Freelance photographer Ryan Miller was one of the cameramen shooting the game.

He told CBSSports.com that Nike Basketball Senior Director Lynn Merritt took his tape.
AHAHAHAHAHA.  We are all witnesses...to the fact that LeBron is a humongous baby.
Actually, I'm happy to report that photographic proof of the dunking has leaked...courtesy of d_julien: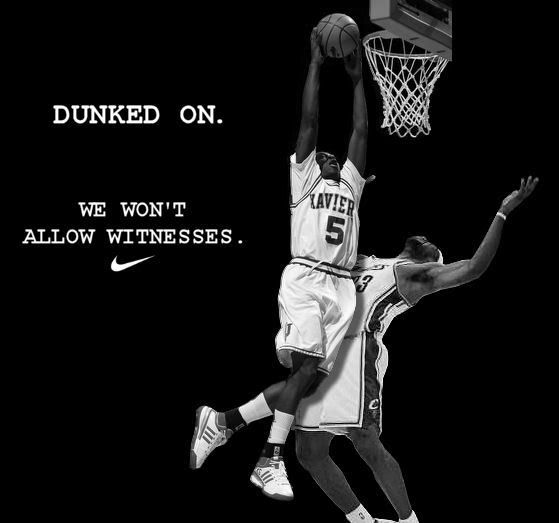 Ryan's going to post his thoughts on Syracuse.com shortly so we'll update as soon as he does.
In the meantime, Chris Chase at The Dagger makes the great point that, by confiscating the tapes, LeBron has turned the dunk into something mythical and probably just made Crawford's career:
But by censoring the tape, LeBron turns the dunk into a legend. On video, it's just a dunk. Without video, the jam can reach mythic proportions. Because nobody can see it, the story of the dunk will grow in stature with each telling. Today, it was a simple two-handed slam. In a few days, it will be a 360-degree windmill. By the time Crawford makes his Xavier debut in October, he will have jumped off LeBron's shoulders, flipped in the air, slammed the ball home with his left pinkie and then handed LeBron $3.99 for his dry cleaning.
If he's smart, Bron-Bron will let the tape leak now so he can play it off.  But what are the chances of that?
Update: The Sporting Blog has created a re-dramatization of the dunk.  Please do yourself a favor and check it out.
Update #2: Ryan was on The John DiTullio Show on 1280 WHTK to discuss the incident. Mentions that Wes Johnson wasn't at the camp due to summer class issues.